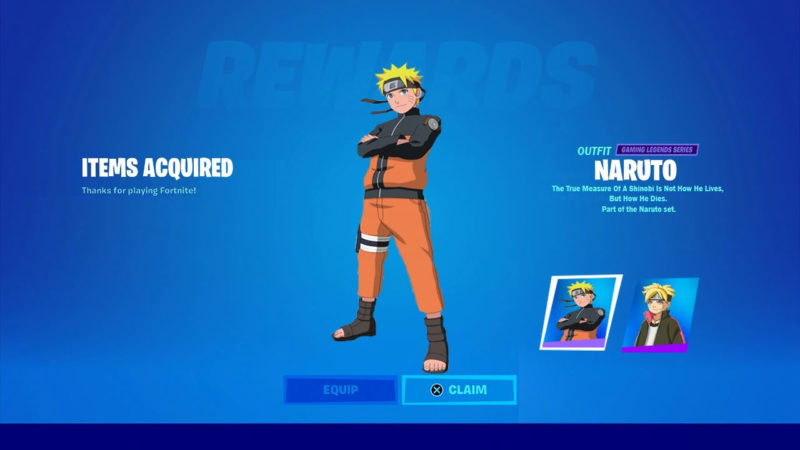 Naruto Uzumaki ganhará skin no Fortnite durante a próxima temporada do Capítulo 2, confirmou Donald Mustard, diretor criativo do Battle Royale. A informação foi confirmada por meio de Candywing, streamer e influenciador de Fortnite que teve um bate-papo com Mustard essa semana.
Today I had my last talk with donald
And I wanted to clarify something that it was a misunderstanding from my part and even he told me ( Naruto is NOT IN THE battle pass )

Continue após a publicidade

He wanted me to clarify cause he saw everything last night and he got worried

— #Ex Candywing (@qCandywing) September 7, 2021
Contrário às informações vazadas nos últimos dias, o diretor afirmou que Naruto não estará no Passe de Batalha da 8ª temporada, mas sim que aparecerá na loja de itens para ser comprado.
A informação também foi confirmada por Shiina, um famoso leaker de informações relacionadas ao Fortnite.
VERY IMPORTANT UPDATE:

Naruto will, contrary to earlier expectations, NOT be in the Season 8 Battle Pass but he will 100% come to Fortnite in S8, according to Donald Mustard.

According to @qCandywing, Donald said this was a "misunderstanding" and he said he'll not be a BP skin.

— Shiina (@ShiinaBR) September 7, 2021
Veja também: Informações sobre o evento de fim da temporada
Como usar o novo código de código Creador: MOKOKIL1

Please follow and like us: